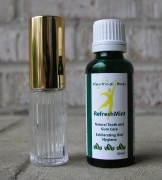 If you've been searching for your old Body Electric health product favorites like Pristine oral hygiene formula, Le Visage facial oils and others, we think you'll be pleased to learn that we've reformulated some of these greats using organic herbals and oils. The end products have been nothing short of amazing.
Remember learning that our nerves are like power lines running all over our body? And the messages between nerve cells are sent by way of "electrical messengers"?

If the whole body is a giant sack of electrolytes, whose primary purpose is to bathe the cells in a fluid that is "electrically" active - then all the reactions that occur in the cell and human body are electrical in nature.
These facts must be considered when designing vitamins, minerals or herbal products - as high energy foods increase our own subtle electrical fields. Research indicates that nutrition with a frequency of over 72 MHz can increase our body's electrical energy. Conversely, foods below 72 MHz drain the body's power reserve. (Processed foods barely reach 10 to 30 MHz).
We feel this collection of high frequencied nutrition has taken the electrical characteristics of the human body into consideration and has given us the tools to upgrade our health to perhaps outstanding levels. But you be the judge of that . . .